Leaf blower comparison-garden tools with lithium ion batteries
Leaf blower comparison-tools with lithium ion batteries. Autumn is just around the corner and brings a lot of leaves and the colorful splendor lies in gardens and driveways, yards and streets. Those who do not want to reach for a rake and broom are happy to reach for a leaf blower with a rechargeable lithium ion battery. Rechargeable devices are now almost powered by rechargeable lithium-ion batteries. We have selected a German and an English leaf blower comparison for you. The German one comes from Techstage, the English one from popularmechanics.   To ensure that the lithium ion battery in the leaf blower is safe, please note the following: You should only buy a leaf blower in which the lithium battery has met all requirements and passed all tests. You should reassure that the lithium ion battery has been manufactured according to a quality management system and has successfully passed the UN test series according to 38.3. This is because lithium batteries are Class 9 dangerous goods and are therefore subject to strict regulations. This is what our article is about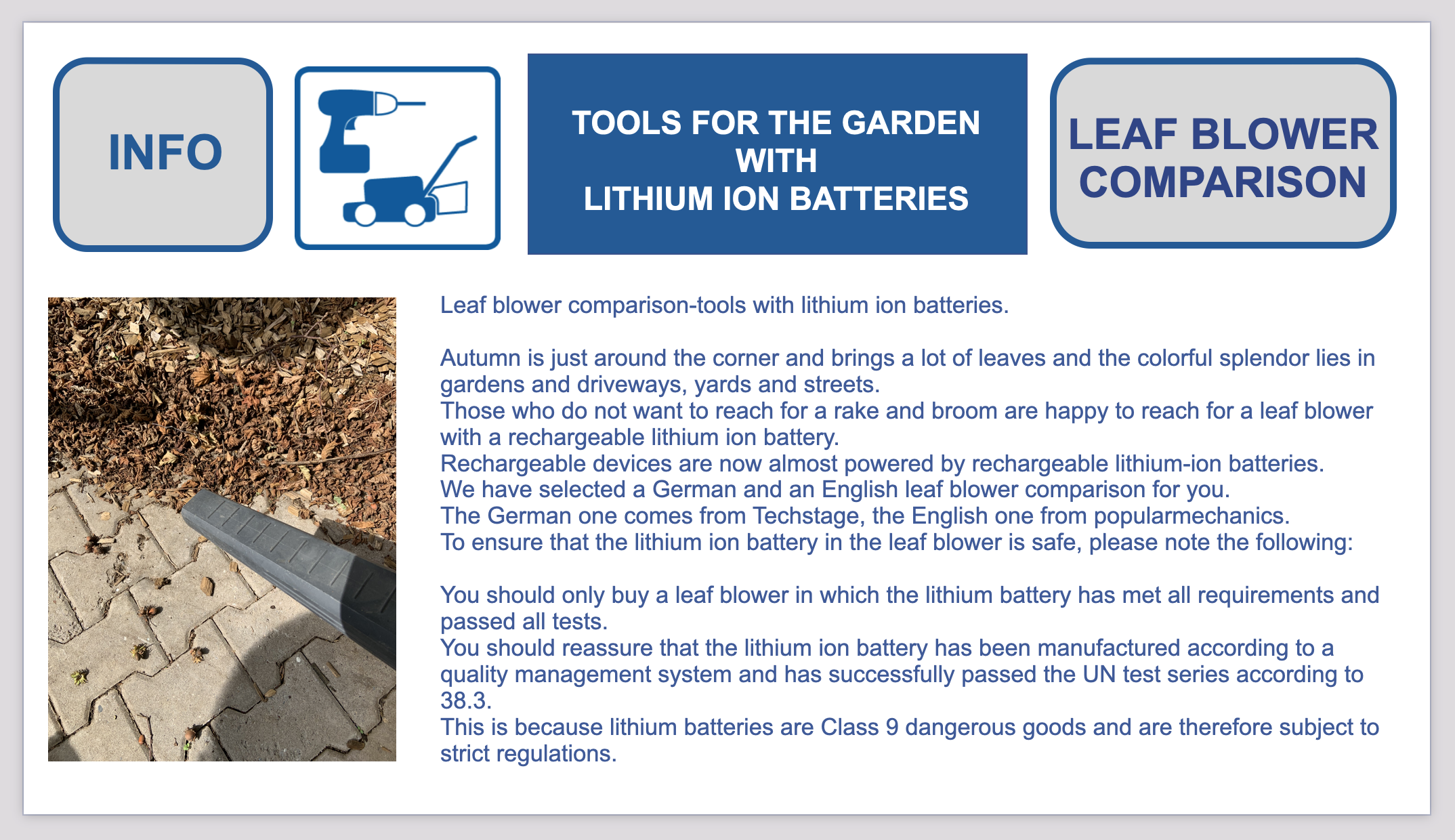 Leaf blower comparison tools with lithium-ion batteries.
Autumn is just around the corner and brings with it a lot of leaves. The colorful splendor lies in gardens and driveways, courtyards and streets.
Those who do not want to reach for rakes and brooms, do not want to use extension cords and gasoline equipment, gladly reach for the leaf blower with battery.
The battery-powered tools are now almost exclusively operated with rechargeable lithium-ion batteries. Sometimes a second battery is included or can be purchased.
We have selected for you a German and an English leaf blower comparison.
The English one comes from popularmechanics:
https://www.popularmechanics.com/home/tools/a24539816/best-leaf-blowers/
The German one comes from Techstage:
https://www.techstage.de/ratgeber/kaufberatung-was-taugt-ein-laubblaeser-mit-akku-fuer-45-euro/7zlbj87


As a consumer, but especially as a distributor, you should not only pay attention to the price and practicality of battery-powered tools, but also to the safety of the lithium-ion battery of the tool.
This is because lithium-ion batteries are dangerous goods. With untested batteries or counterfeit batteries, there is a risk of fire, especially in the case of impact, rupture, short circuit, inflation or undercharging. Look BEFORE you buy for equipment whose lithium-ion battery has been manufactured in compliance with regulations.
Ask the distributor for the UN 38.3 test summary and proof that the battery was manufactured under a quality management system.
The distributor is obliged to provide this information upon request. If he does not have it, he can ask the manufacturer for this information, because every manufacturer and subsequent distributor is obliged since 01 January 2020 to provide this information ON REQUEST (including large online retailers). They are not automatically included with the equipment!
Maybe you will find the reference on the website of good distributors, but most of the time you have to ask persistently.
As a distributor, you should definitely ask the manufacturer for this information BEFORE including a device in your assortment.

Why?
Because lithium-ion batteries are dangerous goods, they are subject to transport regulations. Basically, transport is only possible with these two confirmations. Protect yourself and your customers from plagiarism and thus ensure safety. Also ask your insurer how you should equip your buildings, logistics or returns departments when handling lithium batteries.
We at LITHIUM BATTERY SERVICE are here to help you with questions about transport, packing and shipping.
With us you can download free of charge a UN 38.3 inspection summary and supplier inquiry to get the above described information.
https://www.lithium-batterie-service.de/en/downloads-guest

Likewise, we provide you with a Checklist - UN 38.3 Test Summary according to UN Manual of Tests and Criteria free of charge to check all the information provided by the manufacturer or subsequent distributor. After confirmation, check if the lithium battery also fits to the equipment and not only general information is given or you have only received a product data sheet.
 Here is the checklist with which you can check the information:

https://www.lithium-batterie-service.de/files/552211cce724117c3178e3d22bec532ec/downloads/LiBS-Checklist-UN-38-3-Test-Summary-7-edition.pdf

Of course you can also ask us to do this for you - just contact us:
https://www.lithium-batterie-service.de/en/contact/consulting

We are also available to answer any questions you may have about the entire logistics process for road, sea, rail and air.
We have developed checklists which contain all information, labels, transport documents, packaging instructions according to ADR, IMDG-Code and ICAO-TI / IATA-DGR, RID for each transport case. This way your company always has the logistic procedures up to date and no shipment is left standing.
https://www.lithium-batterie-service.de/en/checklist?tab=1
You can pick out which checklists you need for your transport case. You can purchase individual checklists or total checklist packages.
Here you can find an example of what our checklists look like:
https://www.lithium-batterie-service.de/en/that-s-how-it-works
We also offer you and your employees training with and without exams. Here you can find our current seminars:
https://www.lithium-batterie-service.de/en/learning-opportunities/

On our website you will also find advice on storage, disposal, craftsmen regulations, special features in air transport and a lot of information in our blog and download area.
https://www.lithium-batterie-service.de/en/
If you want to know more about the UN test series according to 38.3, have a look here:
https://www.lithium-batterie-service.de/en/un-38.3-test-series

And more about the Quality Management Program here:
https://www.lithium-batterie-service.de/en/quality-management-program

If you need advice or inquire about in-house training, please contact us.
One of our three experts Jürgen Werny, Eva Glimsche and Robert Wenske will certainly know advice around the worldwide shipping and transport of lithium cells and lithium batteries.
https://www.lithium-batterie-service.de/en/contact/consulting