Storage
The storage of lithium-batteries is not subject to any legal requirements at the moment.
It is the responsibility of the company to determine and put into effect adequates measures.
Next to the general information from the manufacturer, which usually only cover stowage temperatures, there are guidelines established by the German Associations of Indemnity Insurers. The substantial information and the recommended measures you can find here.
And the link to the download of the guideline is the following:

https://shop.vds.de/publikation/vds-3103
Battery Classification according to the VdS Guideline 3103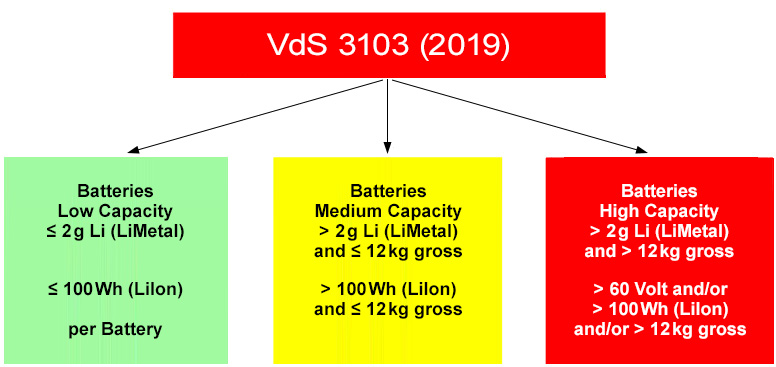 General Saftey Rules according to VdS 3103
Fulfilling all requirements of the respective manufacturer and the product data sheets (some people call them Safety Data Sheets although the need for one would be for substances only)
Preventing external circuits (Securing the battery terminals e.g. by using battery terminal covers
Preventing internal circuits (Securing against mechanical damages)
Immediate professional disposal of damaged products (even with only the slightest damages)
Keep away from direct and continous contact with high temperatures or sources of heat (e.g. direct sunlight)
separate storage (prevent mixed storage)
When stored within buildings a free space of 2,5 m should be kept to other goods or equipment or inside for fire protection safely engineered separated areas (e.g. container, safety cabinets, hazardous material room)
Requirements for batteries with low capacity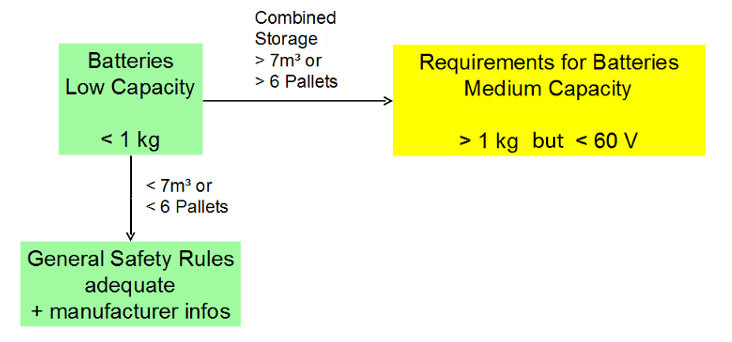 Requirements for batteries with medium capacity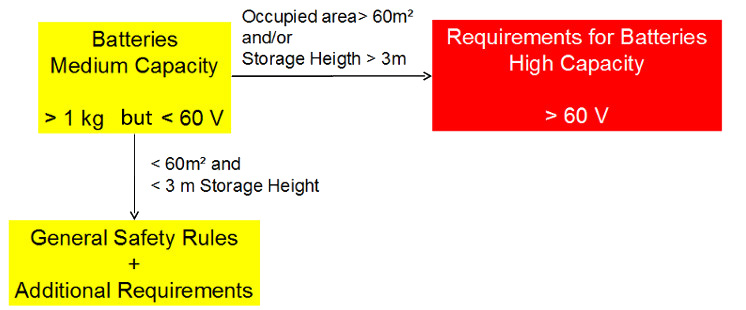 Additional Requirements for batteries with medium capacity: > 1 kg but < 60 V
fire resistant or completely separated rooms or areas (e.g. hazardous material storeroom or hazardous material container)
Mixed storage with other products is not permitted
Suitable fire detection system with connection to a permanently manned location
When using fire extinguishing systems => suitable extinguishing agent according to the Product Data Sheets (some people call them Safety Data Sheets although the need for one would be for substances only)
Additional Requirements for batteries with high capacity: > 60 V
Separation and quantity limitation
Storage in fire resistant separated areas or by keeping a safe distance (spatial separation of 5 m)
Oxygen Reduction System
Inert Gas Extinguishing System
Sprinkler or Water-Spray and Delute System (if this is allowed for the type in the Product Data Sheet (some people call them Safety Data Sheets although the need for one would be for substances only))
Provisioning in Production Areas
Consideration of the General Safety Rules
Quantity Limitation to the necessary minimum ("daily requirement")
Storage Place kept free of other stowage items of any kind within a vicinity of 2,5 m
Use storage cabinets or containers that are as fire-resistant as possible
Keep suitable fire extinguishers in the immediate vicinity